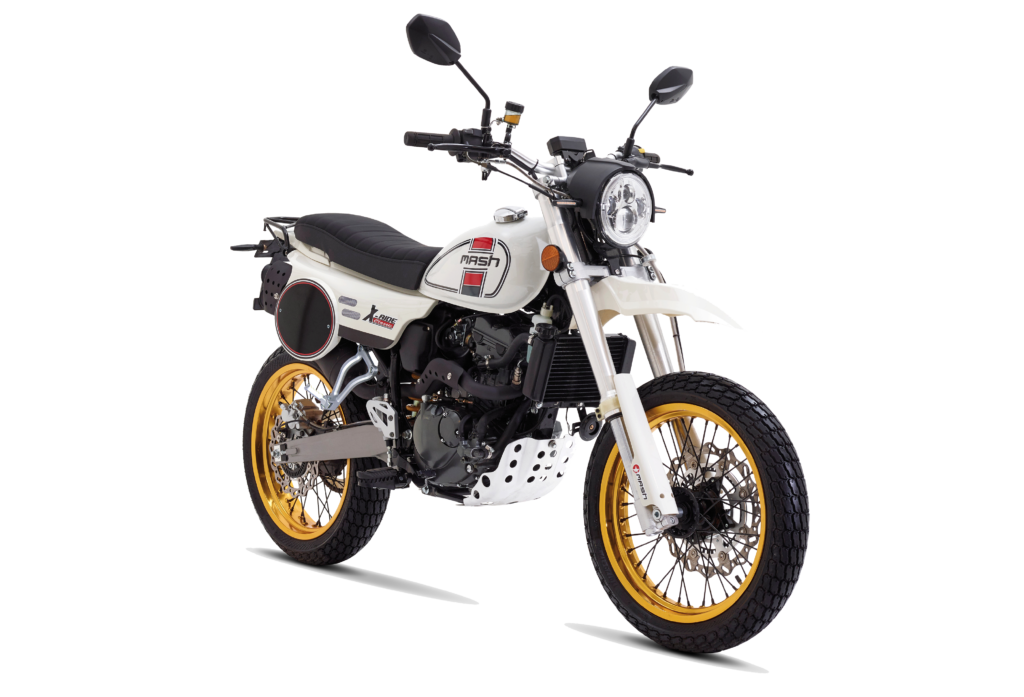 Never before has there been a more beautiful 125cc classic-looking off-road motorbike than the new X-Ride 125. Classic in looks but modern in technology. Just like the Black Seven 125, the X-Ride 125 is equipped with a liquid-cooled 1-cylinder engine. Quieter, more powerful but also more economical thanks to the new power source. Of course Euro 5 and equipped with a modern ABS braking system so that you always stop in time in every situation. Equipped with beautiful golden rims, LED daytime running lights at the front and LED at the back. The beautiful indicators are also equipped with LED. The X-Ride 125 will be available in 17″ x 17″. Suitable for A1 driving licence.
£3.899,-
£3.299,-
+ on the road charges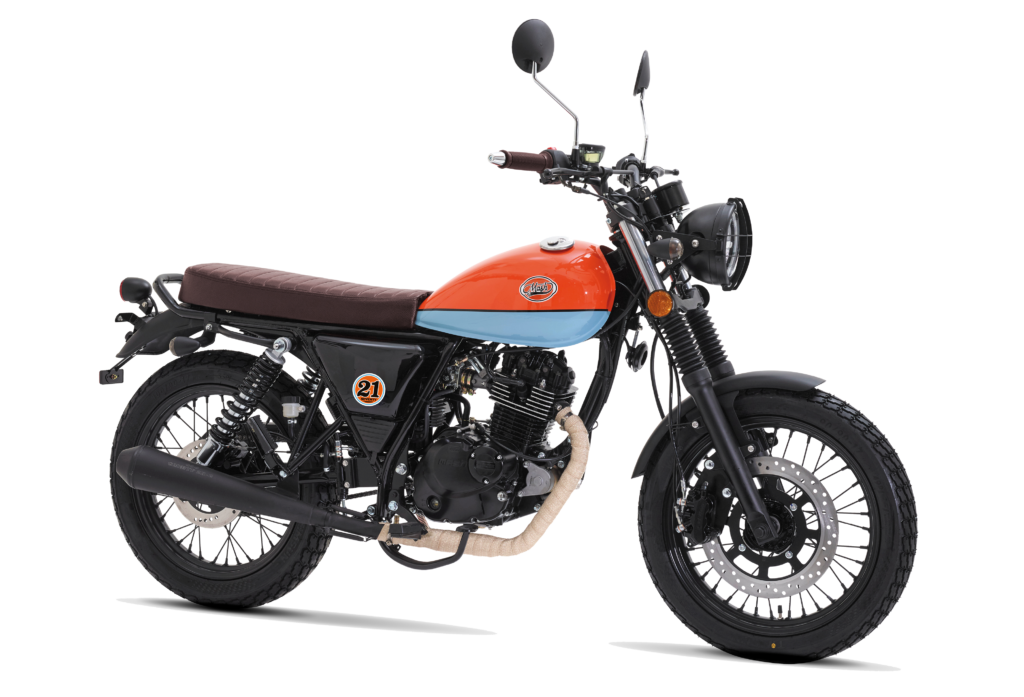 The model that started it all in 2011! The new Seventy is just as revolutionary as its namesake. Anyone who spots this motorcycle for the first time will think that the model is made by a customizer, but appearances can be deceptive. All of these custom features are standard at the Seventy. We're talking about the headlamp grill, exhaust tape, saddle and Blue-Orange gloss or matt finish that are all included in the standard price. The Seventy is ideal for new motorcyclists that are in possession of motorcycle license A1, but also for the urban commuter who goes through the asphalt jungle on a daily basis to get to work. 
£2.799,-
£2.399,-
+ on the road charges
The all-new Black Seven 125 LC ABS now features a liquid-cooled, single-cylinder 125cc engine. Not only does it deliver more power (11kW) than its predecessor, it is also quieter and more refined. Its large matt black tank and retro fuel filler cap not only define its look, but also give it many miles. This is made possible by the new Euro5 electronic fuel injection. A modern ABS braking system ensures that the Black Seven 125 LC always stops on time! Besides the standard LED lighting front and rear, the dashboard has also been completely renewed. Suitable for A1 licence.
£3.699,-
£2.999,-
+ on the road charges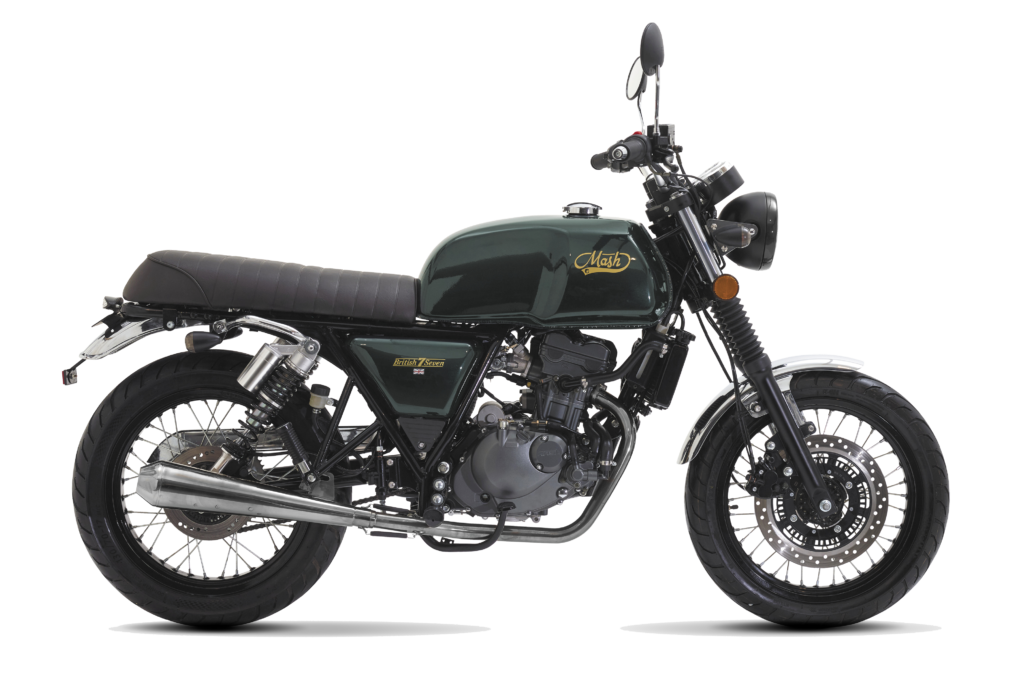 After the magical combination of black and gold on the Black Seven 125 we now bring you the British Seven 125. Its big Green tank is completed with the gold MASH-logo, they don't only stand for a good design but also for making many miles! This has been made possible thanks to the new electronic fuel injection. The brakes are also fully up-to-date. With help of the 3 piston caliper and a combined braking system (70% front and 30% behind) the Brown Seven 125 makes sure to always stand still in time!
£3.699,-
£2.999,-
+ on the road charges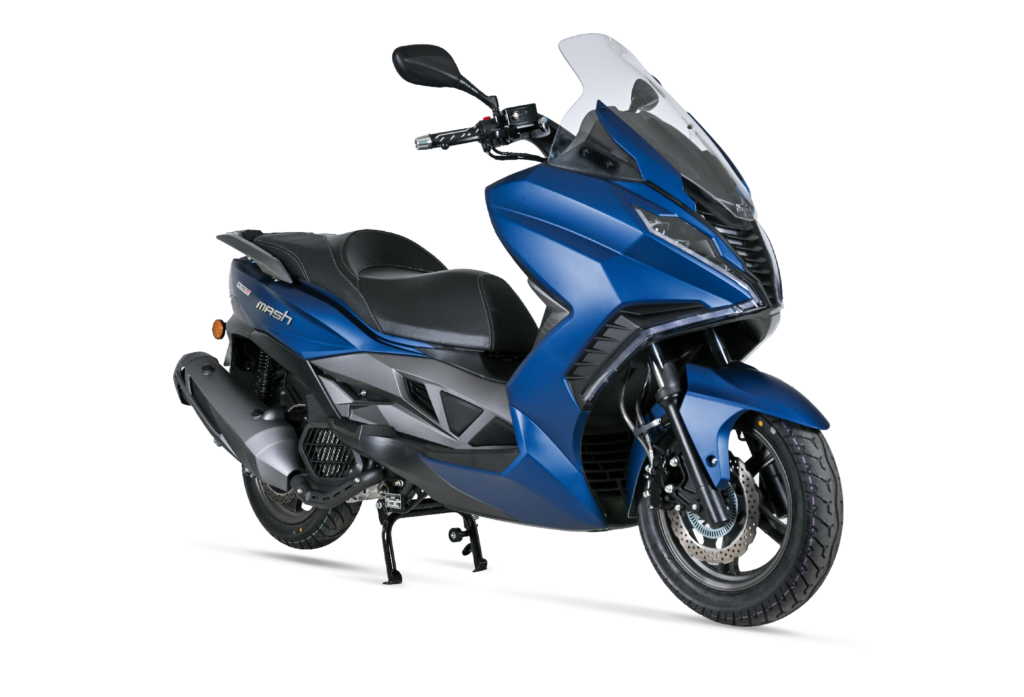 The new Belena motor scooter stands out for its contemporary design and elegant silhouette, with impressive LED lights at the front. Ride comfort is a top priority for Mash and the Belena is no exception. Its ergonomic design and 14'and 13′ wheels make it easy to navigate in heavy traffic and offers extra stability at high speeds.
The Belena 125 is available in 3 colours; black, grey and blue. With a 125cc water-cooled 1 cylinder, Euro V engine, a total kerb weight of 150kg and equipped with LED lights, it is an elegant sporty motor scooter.
£3.399,-
+ on the road charges